Qatar boss joins world's longest flight

NZ Newswire
7/02/2017
The group's chief executive, Akbar Al Baker, was on board the inaugural flight, which touched down in Auckland on Monday after crossing 10 time zones.
At 14,535km, the flight can take up to 17 hours and 45 minutes, or the equivalent of watching the entire Lord of the Rings and The Hobbit trilogies.
Yet, such pursuits do not seem to attract Mr Al Baker, who instead treated the flight like an extension of his office.
"I kept myself entertained by doing work, because I like to work," he said.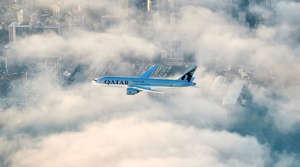 © Qatar Airways/Handout via REUTERS Qatar Airways' first flight to New Zealand flies over the city of Auckland on its final approach to the airport The daily flight is set to further heat up competition in New Zealand with Middle East rival Emirates also offering flights each day into Auckland from Dubai.
National air traffic controller Airways New Zealand said in January jet movements had risen by 9 per cent, or an extra 315 flights each week, this summer compared to last year.
Auckland's airport predicts the Qatar daily service will add $198 million annually to the country's economy.
Mr Al Baker said the new flight mostly targets European visitors but will also bring new Middle Eastern travellers, who even if they do not share his enthusiasm for working on airplanes, will still be happy to board the long flight.
"People want to have the shortest travel time, people prefer to travel direct without making too many stops and this is what we offer," he said.
Unlike Emirates' Airbus A380s, which have payload restrictions, Qatar's smaller Boeing 777-200LR can also carry freight, Mr Al Baker said.
With Qatar's annual two-way trade with New Zealand exceeding $330 million, Trade Minister Todd McClay praised the flight for adding 116 tonnes of freight capacity between the nations each week.
"This increased freight capacity will support New Zealand exporters getting their fresh product to the Middle East and beyond," he said.