Quake recovery to be shared with the world

NZ Newswire
9/09/2016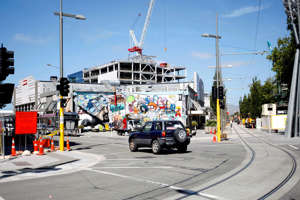 © AP Photo/Nick Perry A vehicle is driven past a construction zone in Christchurch, New Zealand International leaders in disaster recovery and preparedness are lining up to hear about the lessons New Zealand learned from the Christchurch earthquakes.
The symposium will be held in the city next February, Christchurch Regeneration Minister Gerry Brownlee has announced.
"It will present the recovery experiences and lessons learned across many different sectors, including community organisations, government and non-government agencies," he said.
"This is not saying, by any means, that we are finished with the process of rebuilding and regenerating Christchurch, but analysing and sharing the experience that the city and the country has gained is best done while we have the people and knowledge readily to hand."
Confirmed speakers include the heads of the International Federation of the Red Cross, the World Bank's Global Facility for Disaster Reduction and Recovery and the Rockefeller Foundation's 100 Resilient Cities project.