Rain forces mass of school closures

NZ Newswire
5/04/2017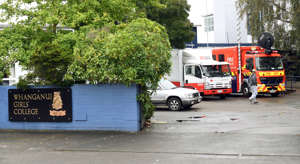 The wet weather drenching parts of New Zealand forced the closure of more than 100 schools in the North Island on Wednesday, the Ministry of Education says.
As well as the 103 schools, 92 early learning centres also shut their gates.
A total of 13,725 school students and 3895 pre-schoolers were affected.
Ministry deputy secretary of sector enablement and support Katrina Casey says several schools reported damage and regional teams are monitoring the situation.
"Given the severe wet weather is forecast to continue in many areas until early Thursday, further closures are possible," she said.
Parents were advised to check with schools and early childhood centres, either online or directly, for the latest updates.
Because of the state of civil emergency in Whanganui and Rangitikei, all schools in both districts were closed on Wednesday.
Ms Casey said the two councils had advised that it was safe to reopen schools and early learning centres in their districts except for those in the evacuation zone.