RBNZ ups ante in short-term money markets

NZ Newswire
8/04/2016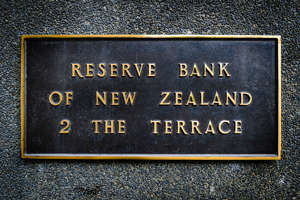 © Bloomberg/Mark Coote A plaque on the outside of the Reserve Bank of New Zealand headquarters on The Terrace in Wellington, New Zealand Dwindling liquidity in short-term money markets has prompted the Reserve Bank to lift its participation as a means to limit volatility and keep short-term rates near the official cash rate.

In the latest Reserve Bank Bulletin, analyst Andrew Kendall reports finding liquidity had declined across different markets to varying degrees, but had been manageable so far.
In short-term money markets, which are a key channel for transmitting monetary policy decisions, Kendall found reduced liquidity in foreign exchange swaps had heightened volatility, which traders put down to increased regulation stifling activity and limiting the ability of participants to use their balance sheets in 'arbitrage' trades to bring rates down in line with the OCR.
"The Reserve Bank has responded to the reduced liquidity and increased volatility by transacting more in the foreign exchange swap market, in an attempt to 'replace' some of the lost liquidity," the report said.
"While there are still periods of volatility, generally the increased participation in the market has improved market conditions thus far and allowed short-term rates to trade closer to the OCR."
Still, Kendall said if liquidity continues to deteriorate it will become harder for the Reserve Bank to respond due to the size of its balance sheet and need to maintain prudent risk management.
In November, the Reserve Bank noted the liquidity deterioration of market liquidity in its financial stability report, saying there was a risk that funding costs could increase.
On bank funding liquidity, Kendall said he found it had modestly diminished in the past year, largely due to greater market volatility and that lenders' costs were manageable given regulations requiring them to source more funding domestically, and more conservative approaches to risk.