Real anger in parliament for once

NZ Newswire
23/09/2016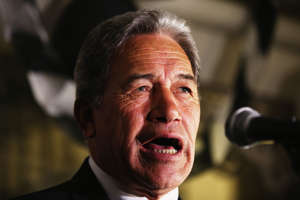 Most of the outrage regularly seen and heard in parliament is phoney, but the angry tirades against Winston Peters this week were real.
The Maori Party's co-leaders and two cabinet ministers really put the boot in over NZ First's stance on treaty settlement bills that wrecked plans for a special sitting on Friday to put them through their final stages.
More than 400 iwi representatives had expected to be in the public galleries to witness the event, many of them arriving earlier in the week.
The issue was over NZ First's refusal to accept an arrangement it had previously agreed to which would have allowed all the bills to be passed into law on voice votes.
That means they would have been unchallenged. All it takes for voice votes to succeed is for MPs in the debating chamber to say "Aye" when the question is put, and for none to say "No".
There only needs to be a handful of MPs present.
A challenged vote is entirely different. Votes have to be cast and counted, and for party whips to put up a full slate they must have 75 per cent of their MPs on the premises, if not in the chamber.
NZ First decided to oppose two of the five settlement bills, which it has an absolute right to do.
That's what caused the problem and the scrapping of the Friday session.
It couldn't go ahead because too many MPs had already been given leave, and even if they hadn't been it would have really stretched parliament to get through the bills in time under normal procedure.
What really incensed Peters' critics was that NZ First initially agreed to the voice votes deal, and then changed its mind after the arrangements had been put in place.
NZ First vigorously denies it didn't give notice of its intentions, and has evidence that early in the piece it disagreed with giving MPs leave on Friday - the first day of a two-week recess.
None of that meant a thing when Maori Party co-leader Marama Fox ripped into Peters, calling him a "blustering buffoon" and a grandstanding party dictator who was pulling off what was nothing more than a stunt.
Gerry Brownlee, the Leader of the House who is in charge of how it arranges its business, hammered NZ First for "appalling behaviour".
Brownlee says that on Monday NZ First's deputy leader, Ron Mark, confirmed his party's support for the bills.
On Tuesday, he told Brownlee NZ First opposed two of the bills.
"NZ First's eleventh-hour withdrawal is small-minded and petulant," said Brownlee.
"Mr Peters prefers chaos to order, and in this case is entirely responsible for the inconvenience and disrespect shown to iwi who had made expensive arrangements to be in Wellington on Friday."
Treaty Negotiations Minister Chris Finlayson, who would have been in parliament to oversee the historic event, was just as upset as Brownlee.
"This bizarre u-turn delays the benefits settlements bring to iwi, communities, regional New Zealand and the country as a whole," he said.
"It not only postpones the final settlement of long-standing historical grievances which have been negotiated over many years, but delays tens of millions of dollars ot commercial and financial redress."
Finlayson told reporters he came to parliament to try to help people, while Peters just "goofed around".
Peters gave as good as he got.
His attackers were "an unsightly trio of drama queens".
"These treaty settlement bills were so important to them that most of the Nat MPs had planned on not even being present for their passing," he said.
"National clearly has the votes to do anything they want, whenever they want - except when most of their MPs have fled Wellington."
While Peters was sounding off, one of his MPs, Richard Prosser, had the misfortune to walk into a press gallery office while Fox was there.
He had to stand and take it as she raged in his face about NZ First's actions.
Peters challenged Brownlee to have parliament sit on Friday and put the two bills through under normal procedures.
He pointed out there was no chance of the bills failing to pass, because NZ First has 12 votes and could be easily defeated.
It shouldn't be too hard for the others to muster 13 MPs, he said.
But they don't trust him.
The Friday sitting was scrapped because the government would have been in the invidious position of not having enough MPs present to counter any tricks Peters might have up his sleeve.
"What would happen if he called a vote of no confidence in the government?" Fox asked.
"If that happened people would have to fly back to Wellington from all over the country."
Peters says it's their fault for granting leave to too many of their MPs.
It's difficult to see how Peters could contrive a circumstance such as a vote of no confidence in the government, but they obviously don't put anything past him.
It took Peters a while to reveal precisely why NZ First had a problem with the bills.
When he did, on Thursday, he explained it was because NZ First wouldn't accept the "electoral apartheid" of having unelected iwi representatives on a regional council.
Finlayson says he expects more of that as next year's election approaches.
"Every time I take a treaty bill to the House between now and the close of parliament some time next year you can expect him to say I'm a bleeding heart liberal who has sold out to Maori. I could write the speeches."