Red Cross quake relief fund tops $1.2m

NZ Newswire
23/11/2016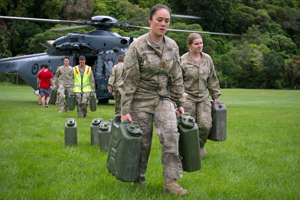 © SGT Sam Shepherd / NEW ZEALAND DEFENCE FORCE / AFP Army personnel unload water canisters from an air force NH90 in Kaikoura on Wednesday. Kiwis have already given more than $1.2 million to an earthquake relief fund but Red Cross says those affected will need much more.
New Zealand Red Cross Secretary General Tony Paine said last week's 7.8-magnitude quake in north Canterbury was one of the strongest to ever hit the country and its long term impact was yet to be known.
"We know that recovery is a marathon, not a sprint," he said.
"(While) we are still focused on the immediate response, especially in Kaikoura ... our team is working to establish the (long term) extent of the needs in the affected communities."
"Early assessments have identified a range of issues -- property damage, psychosocial needs, lack of water and working sewerage systems, concerns over school closures and the future of businesses in the area."
Since the first quake struck on November 14, New Zealand Red Cross has provided emergency aid, food, water, welfare checks and psychosocial support to hundreds of people in the quake-affected regions.
With sewerage systems in Kaikoura still out of order, it has deployed a water and sanitation specialist to the town.
Mr Paine said his team had also been reviewing the support programmes it ran in the wake of the Christchurch earthquakes to help inform its current relief efforts.