Referee Pollock brings up double century

NZ Newswire
1/07/2016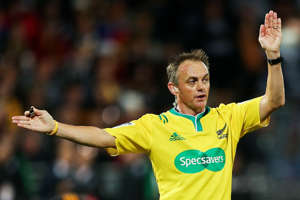 Referee Chris Pollock will join a select group when he takes charge of the Super Rugby match between the Hurricanes and the Blues in Wellington.
Pollock will become just the fifth New Zealander to have the whistle for 200 first-class fixtures when he blows for kick-off on Saturday night.
He joins Paddy O'Brien (221), Paul Honiss (220), Steve Walsh (210) and Bryce Lawrence (201) in reaching the milestone.
Pollock, 43, made his first-class debut in 2000 in a match between Hawke's Bay and Southland, and he went on to referee in 22 Tests before retiring from international duties last year.