Replacing Tietjens a sizeable task: Tew

NZ Newswire
6/09/2016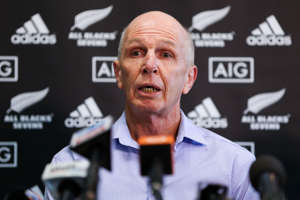 New Zealand Rugby has given itself a month to fill the 23-year vacuum left by retiring national sevens coach Sir Gordon Tietjens.
Chief executive Steve Tew hailed the career of Tietjens who announced he was stepping down, leaving the men's position open for the first time since 1994.
Tew says there is already interest in filling the role, along with that of women's coach Sean Horan, whose contract also expired after the Olympics.
"It's quite hard to build a succession plan when you have the world's best coach in place for a very long time," Tew said of Tietjens.
"It's fair to say no one else will rival his record in rugby in any form of the game. His tenure in itself is quite hard to comprehend but his results inside that period of time are huge."
Horan, a good friend of Tietjens, is considered a contender for the men's role after steering the women's team to three world series titles and a silver medal in Rio.
Tew says a review of the Olympic campaign will play a role in determining the new coaches.
Tietjens has been a advocate for a centralised sevens programme to match the pathway taken by most of New Zealand's rivals, whose standards have improved considerably.
Tew says it has been considered previously and will be again, with sevens considered an important part of his organisation's framework.
"The sevens game is able to go to markets that we can't take the 15s game," he said.
"It has been a really important part of building the All Blacks brand and also brand New Zealand in some of those markets."
Tietjens says the new coach will need to have a keen eye for talent and be prepared to push the players to physical extremes.
"It's a challenging sport. You've got to challenge the athletes and they've got to work particularly hard," he said.
"It's a hugely demanding sport mentally and physically."