Republican strategist files $4m libel suit against Trump and his campaign

The Guardian
19/04/2016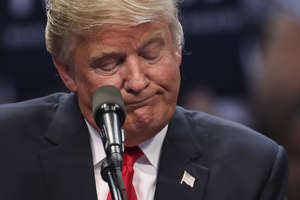 Donald Trump's campaign manager allegedly boasted that the Republican frontrunner "could do what they wanted with Fox" and that the cable news channel was on their side, according to a libel lawsuit filed by a Republican strategist.
In the $4m defamation lawsuit filed Monday in New York City, Republican strategist Cheri Jacobus says that Trump, his campaign manager Corey Lewandowski and the Trump campaign attempted to smear her after she criticized the candidate as a television pundit.
In particular, Jacobus alleges that Trump and his campaign targeted her "with the purpose of making her an object lesson, to those who might question Trump and his fitness for office, to incite a virtual mob against her, to destroy her reputation, and to bully her".
Jacobus said she had met with the campaign in 2015 about a potential job as communications director after a staffer approached her. After two meetings, she ended the conversation, deciding that she had no interest in a position after deciding Lewandowski was "unprofessional" and "a powder keg". However, after she criticized Trump on television months later, the candidate started tweeting about her, saying "Great job on @donlemon tonight @kayleighmcenany @cherijacobus begged us for a job. We said no and she went hostile. A real dummy! @CNN."
then posted
"Really dumb @CheriJacobus. Begged my people for a job. Turned her down twice and she went hostile. Major loser, zero credibility!"
She also cited Lewandowski saying of her in an interview on MSNBC: "This is the same person, I'll just tell ya, who came to the office on multiple occasions trying to get a job from the Trump campaign, and when she wasn't hired clearly she went off and was upset by that."
The result, Jacobus says, is that her career as a television pundit has virtually ended and she has been subject to constant online harassment from Trump supporters.
In particular, she says that Lewandowski claimed to her that his candidate had particular influence with cable news organizations, especially Fox News. Lewandowski allegedly claimed that the Trump campaign "could do whatever they wanted with Fox and them on their side." He also said Fox News' CEO Roger Ailes was close friends with Trump and that after the campaign Trump "could probably pick up the phone and get Jacobus a FOX contract."
In addition, Lewandowski allegedly showed Jacobus an email sent by Ailes to Trump where the media executive offered to help Trump.
The lawsuit filed by the female pundit represents just one in a series of controversies for the Trump campaign and Lewandowski. It comes only days after the Trump campaign manager found out that he would not face criminal charges for allegedly battering a female reporter, Michelle Fields, formerly of Breitbart News. It also comes as Trump has spent a year facing criticism for how he referred to women, mocking the appearance of former GOP rival Carly Fiorina and implying that he received hostile questioning from Fox News' Megyn Kelly because she was menstruating.
A Trump campaign spokesperson dismissed the move as "just another frivolous lawsuit and an attempt to gain notoriety at the expense of Donald Trump".
A spokesperson for Fox News in a statement sent to the Guardian said: "It's hardly uncommon for Roger Ailes to sign correspondence by offering a helping hand, but it would be a fanciful interpretation to equate a cordial email with providing assistance to a political candidate in the vein of editorial coverage.
"Furthermore, Roger doesn't recall having even met Corey Lewandowski, much less dining with him."