Researchers name three new weta species

NZ Newswire
23/08/2016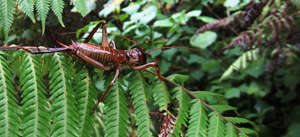 © Wikimedia Commons/Avenue/Licensed under the Creative Commons Attribution-Share Alike 3.0 Unported li... A female weta (Hemideina thoracica) on a tree fern, at Piha, near Auckland. Three new species of ground weta, as well as mating calls, have been identified by Massey University researchers.
Two new species, Hemiandrus luna and Hemiandru brucei, were previously classified Hemiandrus maculifrons.
A third species, related to the two others, has been named Hemiandrus nox.
All three are found in the North and the South islands.
Their indentification comes from research by doctoral student Briar Taylor-Smith and her supervisors, Professor Steven Trewick and Associate Professor Mary Morgan-Richard, and reported in the New Zealand Journal of Zoology.
Hemiandrus luna and Hemiandrus nox were named after Roman goddesses, while Hemiandru brucei (Bruce's weta) is named for Taylor-Smith's grandfather and mentor.
Prof Trewick said many species of weta are abundant in New Zealand forests and other habitats, but a lot of these have yet to be described.
New Zealand Anostostomatidae (true weta) includes three main lineages: giant and tree weta, tusked weta, and ground weta, which together comprise some 60 species.
A separate group, the Rhaphidophoridae or cave weta, are also being studied by the Massey team.
In related research, the team has recorded the mating calls of ground weta.
Until recently it was not known that ground weta communicated using sounds.
These weta do not have the "ears" on their legs that many other weta have, but it appears they use vibrations to signal to each other.
The male ground weta does this by rapidly drumming its body against the leaf it is standing on. The resulting sound is inaudible to humans but can be detected using a specialised sensor.