Riera ends Phoenix career a year early

NZ Newswire
21/05/2016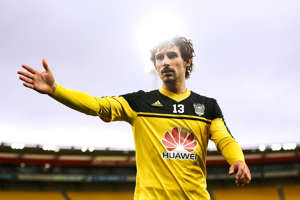 Midfielder Albert Riera has called time on his impressive Wellington Phoenix career, saying the rigours of professional football are no longer for him.
The 32-year-old surprised the club by asking to terminate his contract a year early soon after the final game of last season.
Coach Ernie Merrick asked him to reconsider but when Riera said he still wanted him to go, Phoenix management agreed to release the Spanish holding midfielder after three seasons.
The former paramedic said he had been thinking about finishing up throughout much of the Phoenix's modest 2015-16 campaign.
"My time at the Phoenix has been the highlight of my life; a fairytale that it was hard to believe was happening," he said from Spain, where he is on holiday with his family.
"I've had a few injuries lately and as you get older it becomes harder to shake them off.
"It has nothing to do with money. It is a very personal thing and it was difficult to tell Ernie what I wanted to do."
Riera arrived in New Zealand as a backpacker in 2012 and was spotted by Merrick when the Phoenix played a pre-season game against Auckland City.
He impressed enough to earn a contract, with Merrick describing his signing as one of the best managerial decisions he ever made.
Riera was named Phoenix player of the year on debut and played for the A-League All Stars against Italian giants Juventus in 2014 in Sydney.
He went on to play 68 games and Merrick says his stint should give hope to players seeking to launch a professional career in their late-20s.
"I have to respect what he has decided because he has been fantastic to have at the club," Merrick said.
"You can see why he was a paramedic because he wants to help people. Everyone liked him and he had time for everyone."