Rio-bound Hewitt happy with triathlon form

NZ Newswire
14/05/2016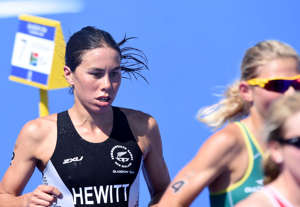 Andrea Hewitt has received further encouragement in her build-up to the Rio Olympics by finishing just off the podium in the Yokohama round of the world triathlon series.
The 34-year-old Cantabrian has come fourth in a race in which she is a previous winner.
"I think my form is good at the moment," Hewitt said.
"I'm looking to build into the European season and everything is building up for August."
American Gwen Jorgensen again showed her dominance on the run as she completed a clear-cut victory for a fourth consecutive Yokohama title.
Australian Ashleigh Gentle was runner-up, while Japan's Ai Ueda was third, eight seconds ahead of Hewitt, who accepted that the flat course made for a running contest.
After staying out of trouble on the bike leg, Hewitt was happy to come out of the final transition in third place.
"There were quite a few surges on the run and that is something I have been working on," she said.
"That final surge when second and third got away was just the last break for me. I managed to stay for fourth and am pleased with the result."
Hewitt is the only triathlete selected so far in the New Zealand team for Rio.
Of the other New Zealand women in the field on Saturday, Simone Ackermann was 19th and Rebecca Spence 21st, while Nicky Samuels withdrew during the run after having been second out of the swim.
In the men's event, won by world No.1 Mario Mola of Spain, there was a top-10 finish for Ryan Sissons, who came ninth.
Tony Dodds, in his first standard-distance competition in more than eight months, was 28th.