Robertson names under-20 rugby squad

NZ Newswire
4/04/2016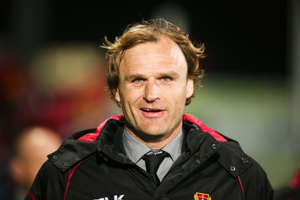 © Getty Images/Martin Hunter Scott Robertson Hurricanes hooker Leni Apisai will captain the New Zealand under-20 rugby team for two Tests against Australia early next month.

Coach Scott Robertson says Apisai is an impressive player and leader.
"He has already shown a maturity beyond his years, in the way he has stepped up to starting for the Hurricanes when veteran hookers Dane Coles and Motu Matu'u were ruled out injured at the start of the season."
The New Zealanders will play Tests against their Australian counterparts on May 3 and 7 on the Gold Coast.
The matches will give Robertson a chance to assess his players before naming a squad to defend New Zealand's title at the world under-20 championships in Manchester in June.
New Zealand under-20:
Forwards: Ayden Johnstone, Mason Kean, Shaun Stodart, Sean Paranihi, Alex Fidow, Pouri Rakete-Stones, Leni Apisa (captain), Asafo Aumua, Hamish Dalzell, Quinten Strange, Sam Caird, Isaia Walker-Leawere, Fin Hoeata, Mitchell Jacobson, Luke Jacobson, Dalton Papali'i, Hapakuki Moala-Liava'a, Marino Mikaele Tu'u.
Backs: Jonathan Taumateine, Sam Nock, TJ Va'a, Stephen Perofeta, Jordie Barrett, Patelesio Tomkinson, Orbyn Leger, Jonah Lowe, Malo Tuitama, Peter Umaga-Jensen, Mason Emerson, Jordan Trainor, Caleb Makene.
Not considered due to Super Rugby commitments: Shaun Stevenson.
Not considered due to injury: Matthew Lansdown, Jahrome Brown, Hugh Renton, Ere Enari, Harrison Levien, Lisati Milo-Harris.