Rookie Walden ready to lead

NZ Newswire
3/05/2016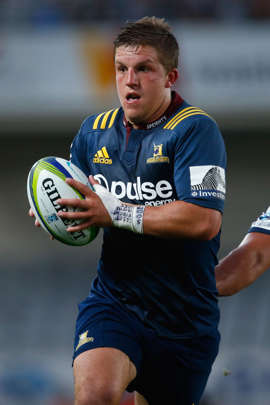 © Phil Walter / Getty Images Teihorangi Walden of the Highlanders runs in a try during the round one Super Rugby match between the Blues and the Highlanders at Eden Park on February 26, 2016 in Auckland, New Zealand Highlanders utility Teihorangi Walden's leadership skills have made the transition from the classroom to the professional rugby field.
A head boy at Frances Douglas Memorial College in 2011, Walden - of Te Atiawa descent - moved to Dunedin the following year to pursue a bachelor of science degree, majoring in geography with a minor in te reo Maori.
In February, Walden made his debut in the Highlanders' season opener against the Blues, and sealed it with a try in a 31-33 loss. The lungs were burning, but the excitement was infectious.
"Seems like a while ago I took the field against the Blues, but I got a taste of Super Rugby initially at the start of the season and I just loved it, and I just wanted to get back out there," Walden recalled.
A concussion stalled those plans in the next game against the Hurricanes, but a late withdrawal saw the 22-year-old elevated to the reserves against the Brumbies last week.
He replaced the injured Rob Thompson and impressed assistant coach Tony Brown.
"Leadership's not about how many games you play, it's what you do on the field and what you do off the field," Brown said.
"For us, he's very crucial in that respect."
A spirited second half saw the Highlanders overwhelm the Brumbies 23-10 in Invercargill on Saturday. Defensively they were sound, but it was on attack where Brown thought they were clinical despite the pouring rain.
"I felt when we executed our attack we were very hard to stop. We only had 30 per cent possession and scored a couple of good tries.
"When we got it right, we were good."
Brown said tackling the defending champion Chiefs side at their home ground on Saturday is an exciting challenge.
"They're a difficult side playing great rugby, so for us we've just got to go up there and back ourselves and play good footy and we'll be fine."
Brown confirmed Waisake Naholo is likely to return to the Highlanders this weekend after a successful club rugby game last week.
The news was soured, though, with confirmation that co-captain Shane Christie would be unavailable for up to three weeks with injury.