Ruislip murder: First picture of mother found dead alongside son, 7, at west London home

Evening Standard
16/12/2016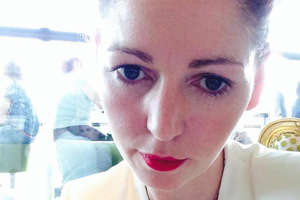 © Evening Standard Sinead Higgins, who was found dead in Ruislip This is the first picture of a mother found dead in her home alongside her seven-year-old son in west London.
The woman, named locally as Sinead Higgins, was found dead inside a two storey home in The Fairway, Ruislip, on Wednesday morning.
Her son Oisin was also found dead when police forced their way into the rented property at around 10.50am after being concerned for their welfare.
Residents today said Ms Higgins, who was originally from Ireland, had lived in the west London suburb for two years.
© Provided by Independent Print Limited Sinead Higgins, pictured with a boy who is believed to be her son Neighbour Barbara Lonnon said she had spoken to the mother about a month ago.
She said: "She kept herself to herself but we'd speak if we saw each other on the street.
"She was Irish and had lived here for two years. I met her in her first summer here."
It is thought Ms Higgins worked in west London.
Ms Lonnon said: "I seem to remember her mentioning working in healthcare.
"She was Irish originally and all her family were there.
© Provided by Independent Print Limited Selfie: Sinead Higgins was found dead at a home in west London "I never really spoke to her son Oisin, he was seven and ran around like little boys do. He was a friendly chap and it's so sad his life has been cut short."
Neighbours in the road, which is close to South Ruislip Underground Station, said they were shocked to find a large police presence in the road on Wednesday.
Officers remained at the house until late on Wednesday night, they said.
One neighbour, who asked not to be named, said: "When I came back from walking the dog there were dozens of police outside the house.

"Then there was an ambulance which turned up. I did not see any forensics though.
"The road wasn't closed off but they were carrying items out of the front door.
"It's really shocking. Nothing like this happens around here."

Homicide detectives are now investigating the deaths which are being treated as 'unexplained'. A post-mortem will be held on Friday at Fulham Mortuary.
A Met Police spokeswoman said: "Police are investigating the death of a woman and child.
"On Wednesday at about 10.50am officers forced entry to a house in The Fairway, Ruislip, following welfare concerns being raised for the occupants.
"Inside officers found the bodies of a woman in her mid-thirties and a seven-year-old boy.
"At this stage the deaths are being treated as unexplained."