Ruiz seeks Parker rematch after loss

NZ Newswire
10/12/2016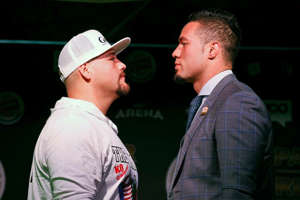 Defeated heavyweight Andy Ruiz Jr has wasted no time throwing down the gauntlet to new WBO champion Joseph Parker, challenging him to a rematch.
The 27-year-old Mexican-American lost by majority decision to Parker on Saturday night, with two judges ruling against him 115-113 and the third declaring the bout a draw.
Ruiz, who dominated the opening exchanges but eventually tired under Parker's relentless jab and body blows, felt he'd controlled the pace of the fight and deserved to win.
He told reporters that he'd be in touch with promoter Bob Arum, who now also helps promote Parker internationally, to set up a rematch.
"I think I surprised him and the crowd, everyone keeps telling me I won," Ruiz said.
"I came to his home town, so maybe he could come to mine and defend it over there."
Trainer Abel Sanchez spent six-and-a-half weeks with Ruiz in his pre-fight preparation in Big Bear, helping the stocky boxer lose almost 16kg for his title tilt.
And the weight loss showed as the California-based Ruiz impressed with his endurance, agility and hand speed against the fitter Parker.
Sanchez thought Parker had won four rounds at most, with Ruiz neutralising the Aucklander's height and reach advantage.
But Parker's home advantage told in the end.
"We're in New Zealand and everything he did, the crowd went crazy," Sanchez said.
"The judges may have been influenced, but the judges have the last call.
"We were two points down coming in because we were in New Zealand, and we understood that."
Despite the call for a rematch, Parker is aiming for a unification bout next year against IBF champion Anthony Joshua.
Ruiz was sceptical the 24-year-old could emerge victorious from a fight with either Joshua or heavyweight stalwart Wladimir Klitschko.
"If I did pretty good with him, there's going to be a lot of boxers who will do really good," he said.