Russia eyes supplying military hardware to the Philippines

Associated Press
29/11/2016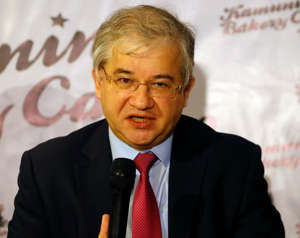 © (AP Photo/Bullit Marquez) Russian Ambassador to the Philippines Igor Khovaev gestures as he talks about the Philippines and Russia relations in a media forum Tuesday, Nov. 29, 2016 in suburban Quezon city, northeast of Manila, Philippines. MANILA, Philippines — Russia's ambassador says his country is not discussing a military alliance but partnership and friendship with the Philippines, with Moscow interested in supplying arms, weapons and transferring technology to the United States' long-standing ally.
Ambassador Igor Khovaev said Tuesday that the two countries' economic and trade commission will start work soon to identify specific areas of cooperation.
He said Russia is open to all options, including long-term supply of military hardware "without political conditionality" like adherence to human rights. He was apparently alluding to the U.S. Congress' conditions for military assistance.
Since becoming the Philippines' president in June, Rodrigo Duterte has had an uneasy relationship with the U.S. He's declared intentions to bolster relations with China and Russia as he revamps Philippine foreign policy that has long leaned on Washington.