Ryanair passenger jet forced to divert after punch-up at 30,000 feet

Evening Standard
6/11/2016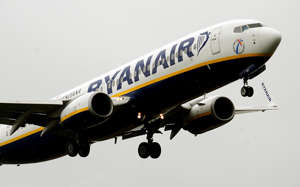 © ap A passenger jet was forced to divert after a fist fight broke out on board at 30,000 feet.
An elderly woman was reportedly hit in the head and a stewardess slapped during the brawl on a Ryanair plane.
Footage from the incident showed punches being thrown before staff stepped in to try to break up the fight.
The pilot could be heard saying the passengers' behaviour is "not acceptable" and announcing that the plane, from Brussels to Malta, will divert to land in Pisa.
Stunned passengers were forced to intervene in the punch-up to hold people back during the chaos on Thursday night. 
Witness Tommy Engerer, a Maltese software engineer, told The Sun: "The fight went on for so long we thought they might be trying to open the doors and might bring the plane down.
"It started when an elderly woman moved seats and told me they'd hit her on the head then a huge fight broke out when two Belgian men tried to intervene.
© Provided by Evening Standard Limited plane.jpg "They were attacking everyone around them and one of the men even slapped a stewardess in the face.
"It was chaos for about 10 minutes until there was an announcement that the plane was being diverted and passengers managed to restrain them with belts."
Four people were removed from the flight and detained by Italian police after the plane landed.
A Ryanair spokesman said: "This flight from Brussels to Malta diverted to Pisa after a number of passengers became disruptive inflight.
"The aircraft landed normally and four passengers were removed and detained by police upon arrival, before the aircraft continued to Malta."
He added: "We will not tolerate unruly or disruptive behaviour at any time and the safety and comfort of our customers, crew and aircraft is our number one priority. This is now a matter for local police."