'Saddest dog in the world' waits for forever home

USA TODAY
3/11/2015
Lana, also known as the "saddest dog in the world", is currently in a foster home waiting for her forever home thanks to an outpouring of support after her story went viral. 
The one-and-a-half-year lab mix is a foster dog with Rescue Dogs Match. She originally arrived in Toronto, Canada, when she was a puppy. 
Recently, Lana was returned to Rescue Dogs Match, a volunteer organization, after it did not work out with the family who took her in at five-and-a-half months old.
Mighty Mutts, which trains dogs, posted on Facebook that Lana had some guarding issues that were worked on when she was a puppy. "However, a year later she is exhibiting those guarding behaviors around food with people she is not completely familiar with," Mighty Mutts posted.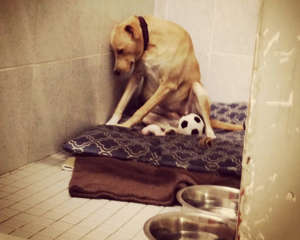 Although her guarding issues were "non-existent when she was adopted," they began to surface, Mighty Mutts added on Facebook. 
"Because there were children in the family it was decided that it would be best for Lana to come back to our rescue so that we could find an adult only home with an experienced handler," Mighty Mutts wrote on Facebook. 
Upon her return, a photo was taken of Lana and shared on Facebook of the dog appearing despondent, with her head down, leaning against the wall in a boarding kennel.  
Mighty Mutts posted that she would only come out of her kennel for two people. "She just shut down," Dahlia Ayoub, owner of Mighty Mutts and a volunteer dog program coordinator for Rescue Dogs Match, told The Dodo. "It's almost like her world shut down." 
She remained unresponsive for a day, The Dodo reported. No one could move her to go for a walk.