Sailor Burling and Tuke get two more wins

NZ Newswire
13/04/2016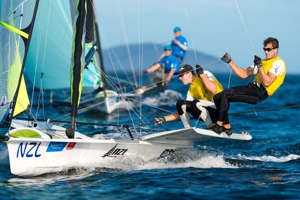 © Buda Mendes/Getty Images Peter Burling and Blair Tuke World champion 49er sailors Peter Burling and Blair Tuke have continued their dominance at the European championships with two more wins off Barcelona.
Shifty conditions meant only two races went ahead on day three and Burling and Tuke took them both.
At the mid-point of the regatta, the New Zealanders have won six of the nine races sailed to open a 24-point margin over the rest of the fleet.
Tied for second are Australians Nathan Outteridge and Iain Jensen, and British crew John Pink and Stuart Bithell.
Burling and Tuke are looking to extend a stellar run of not having lost at a major regatta since claiming silver behind Outteridge and Jensen at the 2012 London Olympics.
In the 49erFX class, Alex Maloney and Molly Meech are fifth overall after a 12th placing, which they can discard, and a win in the day's two races.
Italians Giulia Conti and Francesca Clapcich lead the competition, but just eight points separate the top five boats.