Sale deny any wrong doing over Solomona

NZ Newswire
13/12/2016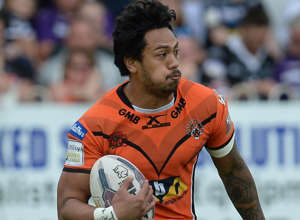 Sale's director of rugby Steve Diamond says his club have done nothing wrong by tempting record-breaking former Melbourne Storm winger Denny Solomona away from rugby league side Castleford.
The Sharks confirmed the cross-code capture on Tuesday following weeks of speculation amid a likely legal battle after the 23-year-old Auckland-born player failed to turn up for the start of pre-season training with Castleford.
The Tigers say they rejected three offers during the season for Solomona, who scored 42 Super League tries last season and had two years left on his contract, and are set to take the matter to the High Court.
Diamond dismissed talk of under-hand dealings and says he is confident an agreement will be thrashed out between the clubs.
"We've never wanted to go down the route of getting into any legal battles," Diamond said.
"We just wanted the deal done and I'm sure the powers that be are getting on with that as we speak.
"I don't think we've done anything wrong at all to be perfectly honest. Players have agents and agents put players up on the market place.
"There were two other rugby union clubs that I know of who were in the market to sign Denny Solomona.
"We've just got to bite our lip and get on with it and be candid. We've got nothing to hide."
Diamond said Solomona will make his debut for the Sharks in Sunday's Champions Cup match against holders Saracens.