S&P; affirms New Zealand's credit rating

NZ Newswire
20/01/2017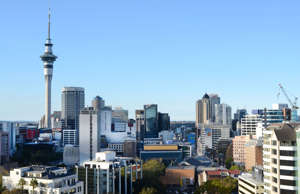 © Chameleons Eye/REX Shutterstock Auckland CBD skyline Standard & Poor's affirmed New Zealand's credit rating, saying the economy's solid growth looks set to continue and the crown's fiscal management remains prudent.
The global rating agency kept the sovereign foreign currency credit rating at AA, local currency rating at AA+, and short-term rating at A-1, with a stable outlook, saying the nation benefited from strong institutions, an effective government and credible Reserve Bank.
The New Zealand dollar rose to 72.18 US cents from 71.84 cents immediately before the release.
"New Zealand benefits from a high-income and resilient economy, which we believe draws from decades of structural reforms and wage restraint," S&P analysts Craig Michaels and Anthony Walker said.
"We expect strong net migration to continue to support growth, through strong residential investment and solid consumption growth, while business investment is also likely to remain firm."
ASB Bank economists predict New Zealand's economy will grow 3.5 per cent in 2017 as the nation's construction and tourism booms continue, and as a recovery in dairy prices revitalises a moribund rural sector.
S&P expects New Zealand's gross domestic product will continue to grow near the 2.7 per cent pace in the year ended June 30, 2016.
Increased spending on residential property is seen as alleviating rapid house price appreciation in Auckland, which has seeped into other parts of the country, and while a correction in the housing market is still deemed to be an elevated risk, it's unlikely to heighten in the next two years.
"We believe the recent trend of higher repricing of home loans, in response to margin pressures and rising global yields, is likely to remove some cyclical demand from New Zealand's housing market, though we expect a number of structural challenges will ensure risks remain elevated," S&P said.
However, the threat posed by a downturn in the dairy sector had eased, reducing pressure on bank loans to those farmers.
"Nevertheless, we expect that many dairy farmers will remain reliant on the extraordinary support of their lenders, given the surge in dairy sector debt in recent years," the analysts said.
S&P affirmed its stable outlook on the prospect of the government's books either getting better or maintaining the status quo in coming years, having "made substantial headway" since the 2008 global recession and 2010 and 2011 Canterbury earthquakes.