Santner keeps it simple against Bangladesh

NZ Newswire
22/12/2016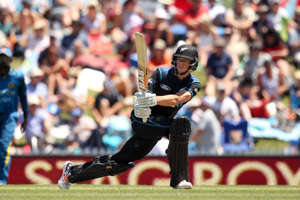 © Martin Hunter/Getty Images Mitchell Santner Mitchell Santner is bracing for the challenge of playing his first one-day international against Bangladesh when the three-match series gets under way in Christchurch on Boxing Day.
The 24-year-old allrounder's only previous experience against the Tigers was the Black Caps' 75-run win in March at the World T20 tournament in India.
Santner is the only recognised spinner in the New Zealand squad and isn't expecting the pitches to provide a huge amount of assistance.
"I'm assuming the wickets aren't going to spin too much here so we have to bowl that hard length and chip them out that way," Santner said.
"If it's a seamer-friendly wicket, I might be just there to get out my 10 overs and bowl accurately, but if there is a little bit more turn, I could be a more attacking option."
Santner, who has made 22 ODI appearances, said it would be a case of not over-complicating things.
"I'm going to keep it pretty simple and not try too much, just bowl good balls with the odd variation," he said.
"They have the ability to score a lot of runs, so it's just about tying them down and bowling good areas."
Having demolished Pakistan in their two-Test series in New Zealand, in November, the Black Caps are keen to make the most of home ground advantage against the Tigers.
"It's a little bit different to what they usually face in terms of the surfaces in Bangladesh," Santner said.
"It's about exploiting that and just sticking to the basics for longer."