SAS vehicle fleet gets $28m upgrade

NZ Newswire
6/09/2016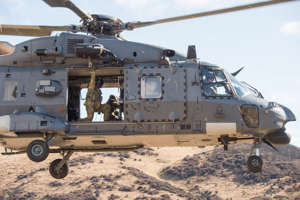 © Facebook/New Zealand Army SAS vehicle fleet gets $28m upgrade New Zealand's special forces are trading in their old fleet of vehicles as part of a $28 million upgrade.
Defence Minister Gerry Brownlee this week announced the SAS was saying goodbye its decade-old fleet of Pinzgauer Special Operations vehicles in favour of vehicles made by company Supacat's Australian branch.
The Supacat Extenda will be the first of four different vehicle types to make up the fleet, but the minister wouldn't say - for security reasons - how many units in total the country would get for the $28m allotted in last year's budget.
The "light operational vehicles" are specially built for military use and resemble heavily armoured trucks with six wheel.
Mr Brownlee said the current fleet had run its course with "extensive and arduous service."
"This experience, combined with the demands of contemporary missions and equipment, has led to the need to replace the Pinzgauers with a range of more modern vehicles," he said.
A 2016 Defence White Paper noted special forces needed to be equipped for long-range reconnaissance and domestic counter-terrorism missions.
"The Supacat is a proven capability which has been used on operations by a number of our key defence partners," Mr Brownlee said.
The new vehicles will be delivered in the final quarter of 2017.
The Pinzgauers were bought in 2006 to replace the army's V8 Landrovers - which were bought in 1982.