Scorer gets in on record act at Basin

NZ Newswire
14/01/2017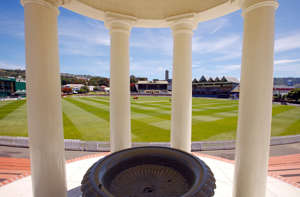 Amid all the tumbling records in Wellington there is another quiet milestone being achieved at the Basin Reserve cricket ground - in the scorer's box.
Long-serving scorer Ian Smith brought up his 50th Test match on the opening day, all at the Basin, and the most by a scorer in New Zealand. He is also the only New Zealand scorer to do 200 first-class games.
In his time there have been nearly 50,000 Test runs scored at the Basin and nearly 1500 wickets have fallen.
The 73-year-old's first Test was in 1965, when New Zealand drew with Pakistan, captained by the "Little Master" Hanif Mohammad.
Smith fondly remembers Richard Collinge getting Hanif's wicket twice in the match.
"Richard was one of these young bowlers at the time, 18 to 19, and to get someone like Hanif - Hanif became known as Collinge's bunny."
His stand-out match was New Zealand's first victory over England, in February 1978. England eventually crumbled for 64 chasing 137.
"That last morning (when New Zealand needed the final two wickets) there was drizzle, around them people wondered if we were going to get going at all.
"I can remember after the game quite vividly people like Bert Sutcliffe who were here... and you could see Bert had tears in his eyes because Bert never played in a winning Test."
Smith also believes he has been lucky to score three world record partnerships.
They included the 467 scored by Martin Crowe and Andrew Jones in 1991, and the sixth wicket partnerships BJ Watling was involved in with Brendon McCullum and then Kane Williamson.
Smith got into scoring when he was a schoolboy in England before coming out to New Zealand.
"I was playing lower grade cricket here, very lower grade, and in the spell of five innings I lasted six balls so I thought maybe I'm not going to sort of make it and took up scoring."
He never imagined he would score in 50 Tests.
"It's one where I've been l lucky. I've had the full support of wife and family because it takes up a fair amount of time and I just work towards little milestones."
Of course, scoring in the 1960s was much different to today's computer-based systems.
"In my days when I started you didn't even worry about the number of balls a batsman faced, it was all time-related.
"You didn't worry about the last hour, you had to bowl so many overs in the day, you went from A to B and that was it."
Smith says the South African Test at the Basin, in March, will be his last and the South African ODI will be his last, but will still keep scoring at domestic level.
That's when the next generation of scorer will step up.
The Bangladesh match is also the first Test for 29-year-old Jeff Stuart, who is among the youngest scorers in New Zealand and the youngest doing internationals.
Stuart has been scoring first class matches for 10 years and Smith suggested he work alongside him with following the retirement of Cheryl Styles after 30 years.
"There's always an element of nerves when you do a game at this level for the first time but I think you are more excited and it's a new opportunity," Stuart said.
"You just want to make the most of the five days.
Friday, when Bangladesh's batsmen were setting a number of national records, was an incredible day, he said.
"For a while there I thought 'maybe a world record on the second day of the job'."
Stuart said he first got into scoring at school.
"I used to play but I was never a great player. I was one of those cricketers that defined my role in the team as my best role as a fielder.
"You know what it's like at school level, no one wanted to do the score books and I just volunteered."
He then got offered the job of scoring at tournaments and it went from there.
"It's become something I love and something it's a dream come true doing games at this level."