Scott begins his charge at Australian PGA

NZ Newswire
3/12/2016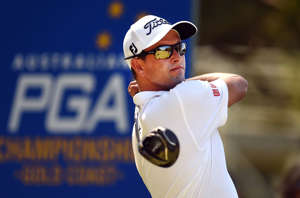 Adam Scott has launched his charge at the Australian PGA Championship, but countrymen Andrew Dodt and Ashley Hall are refusing to make it easy.

Scott went to the turn in Saturday's third round at four-under-par, two shots off leader Dodt - who is 14 under overall - and one behind fellow Victorian Hall.
Scott eagled the ninth with a putt of around 10 metres to go second, before Hall replied with the same score and Dodt birdied.
The world No.7 also birdied the third and eighth holes, as he began his march at Royal Pines on the Gold Coast - to go to 12 under for the tournament.
In comparison, Dodt is two under through the front nine. He birdied the first, eighth and ninth holes, but slipped up on his approach at the par-4 seventh to bogey.
Hall's eagle completed a faultless front nine to go to the turn at three under for the day to remain in the hunt.
The same can't be said for New Zealander Ryan Fox.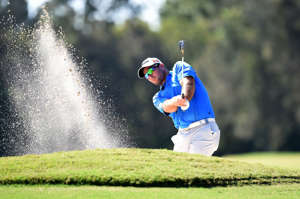 © AAP Image/Dan Peled Ryan Fox After starting tied for third with Scott, he's one over for the day and equal seventh, shooting three bogeys and two birdies in an inconsistent opening nine.
John Senden has moved into fourth at five shots off the lead, while American Harold Varner III is fifth and the best-placed international after going through the front nine at one under.
Englishman Steve Webster and Australian Sam Brazel earlier equalled the best round of the tournament with seven-under 65s.
It shot them to equal eighth and 12th respectively, telling given Brazel was forced to watch the live scores of the last group on Friday evening from his hotel to see if he would made the cut at two over.
"I'm stoked," Brazel said.
"I just let it go. Making the cut was nice and then freewheeled it today."