Scrub fires near Dunedin and Kawakawa

NZ Newswire
5/11/2016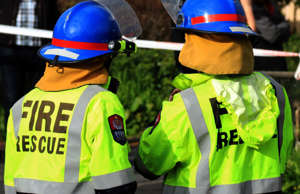 A fire in sand dunes at Ocean View, near Dunedin, endangered homes and at the other end of the country about 30 homes are threatened by a fire near Kawakawa.
Several fire appliances and helicopters were used to fight the fire in dunes near Brighton Road in Otago on Saturday afternoon.
People in a few properties were evacuated.
The fire was out and air operations were stood down by 5pm but ground crews were continuing to mop up, a Fire Service spokesman said.
The fire burnt through about 300sq m of scrub and threatened about six homes, the Otago Daily Times reports.
The Brighton Volunteer Fire Brigade was first on the scene and helped ensure the fire did not engulf homes.
It was not yet known what caused the fire.
The Fire Service has been warning people to take care with fireworks on Guy Fawkes.
At the other end of the country, a 300m scrub fire in Kawakawa in Northland was endangering houses in North Road, the Fire Service said.
About 30 homes are threatened and a monsoon bucket is being deployed from the air.