Search suspended for missing yachtie

NZ Newswire
15/06/2016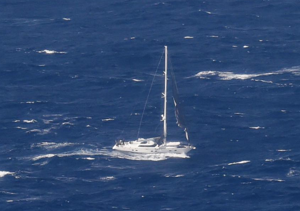 The search for a sailor missing off the stricken yacht Platino has been suspended.
The 20-metre yacht has been abandoned since suffering serious rigging damage in winds of up to 75km per hour while sailing 550km north of New Zealand on Monday morning.
Crewman Nick Saull was killed in what is believed to be a rigging accident, while another man, 63, was blown overboard and is still missing.
However Maritime New Zealand announced on Wednesday the search for him had been suspended.
He was understood to have been lightly clothed and not wearing a life jacket.
No sign had been seen of him for more than two days, despite an RNZAF Orion doing repeated sweeps of the search area.
Search and rescue mission co-ordinator Ramon Davis said the decision was made after a full review of the search operation.
"At this point, we are satisfied that we have taken all possible steps to find the missing man but sadly we have found no trace of him," he said.
"Expert advice indicates the maximum survival time for a person in the water in this area has now been exceeded.
"We have therefore made a decision to suspend the search."
A notice has been issued for ships travelling to the area to be on lookout for the man, he said.
"This is obviously an extremely difficult time for the family and our thoughts are with them."
Container ship Southern Lily intercepted the Platino at about midday on Tuesday, and safely transferred all three remaining crew members on board by 3pm.
The body of Mr Saull is still on board the Platino as it could not be safely transferred to the Southern Lily.
A locator beacon has been activated on the yacht.
The Platino keelboat is registered to co-owners Harry and Tory McKeogh in Auckland.
All on board the yacht were New Zealanders.
The vessel had been entered in a yacht race from Auckland to Denaru in Fiji earlier this month but did not start.