Second man faces bobby calf abuse charges

NZ Newswire
21/12/2016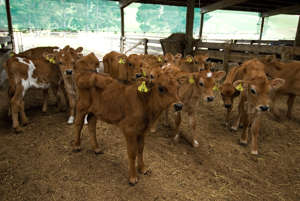 © Paul Nevin/Photolibrary/Getty Images B A second man has now been charged with abusing bobby calves at a Waikato pet food processing plant in August last year.
The 65-year-old Pukekohe man allegedly dragged the calves by a single leg while transporting them to the Down Cow factory near Te Kauwhata.
He will appear in Huntly District Court in February 2017.
His charge comes after slaughterman Noel Erickson, 39, was last month sentenced to two years in prison after admitting he abused more than 100 bobby calves.
The abuse came to light after activist group Farmwatch released hidden camera footage showing calves being dragged by their legs and thrown into trucks and the ground.
Another case of alleged mistreatment of bobby calves involving Down Cow and its director Alan Cleaver is still before the courts.
The Ministry for Primary Industries says it has also filed charges against a farmer for allegedly transporting a cow while suspended from a hip clamp in July last year.
The 35-year-old Waitoa dairy farmer is due to appear in the Morrinsville District Court in mid-February, 2017.