Second NZ franchise mooted for A-League

NZ Newswire
23/10/2016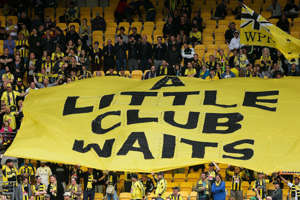 © Hagen Hopkins/Getty Images Wellington Phoenix fans show their support. Less than a year after the Wellington Phoenix had to battle for a licence extension, new A-League boss Greg O'Rourke says plans for expanding the competition could include a second New Zealand team.

O'Rourke is hopeful of adding up to two more teams to the A-League within the next two or three years, aiming further ahead for a 16-team competition by 2022.
"Part of the expansion (is) to get to 12 inside the next broadcast period, we hope, and then after that 14, potentially 16.
"If you're thinking about the 15th or 16th team, there could be the potential for a second NZ-based team."
In Wellington as he makes his way around the A-League's 10 clubs on a familiarisation tour, O'Rourke says there is no particular preference around location for a second New Zealand-based club.
"It's not for me to be surgical necessarily about where it belongs," he said.
"I think you need to work with the Phoenix, and you also have to look at the proposals you're given and see the commercial benefit that would do to grow the whole game in New Zealand."
Despite Wellington's struggles in securing a licence extension earlier this year, O'Rourke was confident the club's long-term future was secure.
"That extension of the licence was great for the Phoenix but it was also very good for the FFA," he said.
"I think a strong Phoenix across the Tasman is a good thing for the whole league."
The Phoenix were given a new four-year licence in February this year, and can qualify for two further three-year extensions if they meet key criteria.
FFA boss David Gallop had earlier said the Phoenix could not simply "squat on a licence", and needed to improves its metrics, including crowds, TV ratings and membership.