Second Oceania CL win for Wellington

NZ Newswire
12/04/2016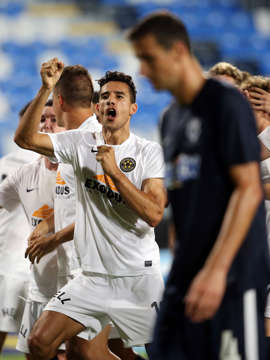 © Getty Images/Michael Bradley Alex Feneridis Two second-half goals have secured Team Wellington's second win of the Oceania Champions League with a 2-1 win over New Caledonian club AS Lossi in Auckland on Tuesday.

But the win didn't come entirely easily, after Wellington were left a player short for the last 10 minutes.
They also had to battle back from a 1-0 halftime deficit, courtesy of a clinical 42nd-minute finish from Lossi striker Jim Ouka, who made no mistake after finding himself one-on-one with Wellington keeper Scott Basalaj.
However, it took Wellington just three minutes from the restart to find the equaliser, Alex Feneridis's free kick rebounding off keeper Michael Hne and falling kindly for Tom Jackson to slot home from close range.
Wellington grabbed the lead in the 64th minute when Mario Barcia's looping header sailed over the stretched arm of Hne.
Chris Bale's second yellow card in the 87th minute forced Wellington to play out the match, which included seven minutes of stoppage time, with only 10 men.
Earlier, Auckland City began their title defence with a 4-0 win over the Solomon Warriors, Joao Moreira coming off the bench to bag a hat-trick.
Wellington also made a winning start to their campaign in defeating Suva 2-0, Ben Harris heading in both goals in the last 16 minutes.