Second training base for NZ troops in Iraq

NZ Newswire
4/11/2016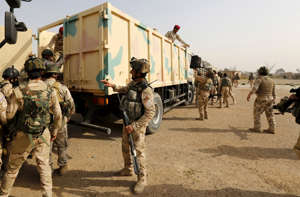 New Zealand troops in Iraq will soon be training local forces at an air base west of Baghdad as well as at Camp Taji near the capital.
Defence Minister Gerry Brownlee says Al Taqaddum Air Base, 70km west of Baghdad, is a secure coalition site and about five Defence Force personnel will be there for periods of about two weeks.
New Zealand has about 140 military personnel at Camp Taji working with Australians to train Iraqi forces to fight Islamic State.
"We want to keep contributing to the training of Iraqi forces as they combat Daesh (IS) and return stability to Iraq," he said on Friday.
"This does not change the size of the overall deployment or create additional costs."
Mr Brownlee says the coalition has a network of secure training sites across Iraq, and New Zealand troops may be asked to go to locations other than Al Taqaddum.
"These requests will be considered on a case by case basis, but we do have to be adaptable and flexible," he said.
Mr Brownlee says the situation in Iraq is constantly changing, as has been seen with the start of the Mosul offensive.
Iraqi forces are fighting to seize control of Iraq's second largest city from Islamic State.