Senior doctors back gastro inquiry

NZ Newswire
18/08/2016
The government has announced that there will be an inquiry into the outbreak, which resulted from contamination of the water supply.
More than 3300 people in the Hawke's Bay town are estimated to have been hit by the bug.
Association of Salaried Medical Specialists executive director Ian Powell says the seriousness of what has happened warrants a rigorous independent investigation.
"Even if no mistakes have been made, there will be much to learn from this rare event," he said.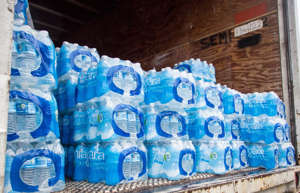 © AP Photo/Michael Switzer Senior doctors back gastro inquiry "In the unlikely case of a similar event in the future, what is learned from this inquiry should help us to better respond."
The gastro saga began late last week when testing picked up campylobacter in the water supply.
It took a twist on Thursday when one of nine tankers brought in to provide drinking water from Hasting and Flaxmere was found possibly to have E. coli.
The suspect tanker was parked in the Havelock North High School car park and people who took water from it have been asked to dump it.
Hasting District Council says water from the other tankers was tested and was cleared, but the decision was made to chlorinate the water in all the tankers.
In what the council describes as a "super precautionary approach", it says water supplies for Hasting and Flaxmere are also being chlorinated.
There has been no notice issued for people in Hastings to boil the water they use for drinking, food preparation or brushing their teeth, as is the case in Havelock North.
But mayor Lawrence Yule says people in Hastings may want to do so, or use bottled water, while the chlorine works its way through the system.