Sharemilkers hit hardest by bank pressure

NZ Newswire
30/08/2016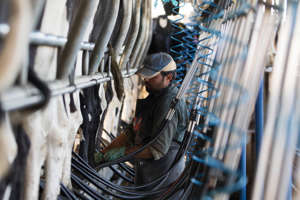 © Brendon O'Hagan/Bloomberg A worker in a milking shed on a Waikato dairy farm. Most New Zealand farmers are broadly happy with the relationship with their banks although more report feeling 'undue pressure', according to a Federated Farmers survey.
The survey shows 80 per cent of all farmers and 78 per cent of dairy farmers were 'very satisfied' or 'satisfied' with their banks and reported an improvement in the quality of communications from their bank, the farmer lobby group said in a joint statement with the New Zealand Bankers' Association
Sharemilkers were most likely to feel the strain of their banking relationship, with 15.8 per cent saying they experienced 'undue pressure' in relation to overdrafts and 22.2 per cent saying they felt pressure over mortgages.
Federated Farmers president William Rolleston said it wasn't surprising given the current economic climate that sharemilkers, who run their herds on other people's farms under profit-share arrangements, were the most exposed.
"Sharemilkers continue to be most vulnerable when it comes to dealing with banks and the data shows they are the least satisfied," he said.
Yet the survey also suggests sharemilkers take the most care over the finances, with 84 per cent saying they have detailed and up-to-date budgets for the current season and 42 per cent having them in place for future seasons.
That's ahead of farms as a whole, where 63.5 per cent have a budget for the current season and just 19.6 per cent have them for future seasons.
Other farming types, particularly sheep and beef, are not reporting nearly the same extent of bank pressure and their satisfaction levels remain relatively strong.
In relation to mortgages, 12 per cent of all farms and 16 per cent of dairy farms were coming under 'undue pressure' from their banks, and 9.2 per cent and 12.2 per cent respectively are coming under 'undue pressure' around overdrafts. The figures are up compared to the last survey in May.
BusinessDesk