Shares down but Metro Glass, Air NZ rise

NZ Newswire
1/03/2017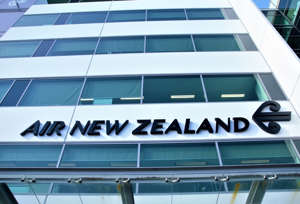 © 168844172/Shutterstock Air New Zealand Head quarters based in Auckland New Zealand shares dipped on Wednesday, with Mercury and Xero falling, while Metro Performance Glass and Air New Zealand gained.
The S&P/NZX 50 Index dropped 18.68 points, or 0.3 per cent, to 7,148.78. Within the index, 27 stocks dropped, 19 rose and four were unchanged. Turnover was $123.3 million.
"We saw some very sharp share price movements at the end of the month, as we're wont to do in New Zealand, unbridled flows from ETFs and the like into this market," said Matt Goodson, managing director at Salt Funds Management.
"There appears to be a bit of a continuation of that today as people square up from going on the other side of those flows. They're quite a remarkable factor in this market."
Mercury was the worst performer on the index, down 2.9 per cent. Xero, which along with other clients of cloud platform Amazon Web Services' S3 hosting service, has experience intermittent disruption on Wednesday, dropped 2.5 per cent to $18.35.
Metro Performance Glass was the best performer, up 4.9 per cent to $1.50, while Air New Zealand rose 3 per cent to $2.435 and Comvita gained 2.4 per cent to $7.27.
Sky Television was unchanged at $3.80. Sky and Vodafone haven't given up hope for a merger despite being rebuffed by the Commerce Commission last week over competition concerns.
Outside the benchmark index, Methven dropped 4.6 per cent to $1.26. The shower and tapware designer posted a 32 per cent drop in first-half profit after a major supplier in its biggest market Australia shut down.
New Zealand King Salmon, which listed last October after raising $70 million selling shares, rose 0.7 per cent to $1.37. It posted a 52 per cent gain in first-half profit to $8.7 million.
Network provider TeamTalk gained 2.6 per cent to 78 cents. The company is under a $22.7 million hostile takeover offer from Spark.