Shot sea lion dies on Catlins beach

NZ Newswire
21/04/2017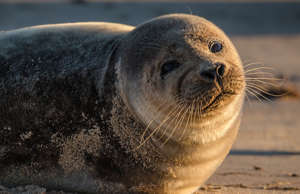 © Getty Images File photo of a Sea Lion A sea lion has died after being discovered on a beach in Southland's Catlins suffering from shot gun wounds.
The animal came ashore at Jacks Bay over Easter to lie in the dunes but later died, the Department of Conservation said on Friday.
"While we were not able to save it, a vet was available and supervised a necropsy, which showed that the sea lion had been shot causing a haemorrhage in its lungs," DOC's Chris Bowen said.
"This sea lion appeared to be in in a good condition. He died from serious blood loss and it would have been a slow, painful death."
DOC is now urging anyone with information on the shooting to contact them.
"The shooting of an endangered animal is hard to comprehend. There are only about 10,000 New Zealand sea lions left so losing one in this way is particularly tragic," Mr Bowen said.
DOC is leading the investigation into the death and police have been alerted.
It is illegal to injure or kill sea lions and penalties including up to five years' jail and a fine of up to $250,000.