Silver Ferns brace for Aussie onslaught

NZ Newswire
14/09/2017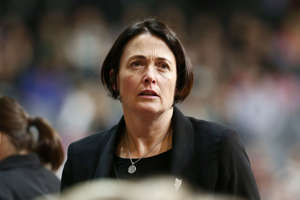 © Getty Images Head Coach Janine Southby of New Zealand. The Silver Ferns have done themselves no favours with their recent Quad Serries 57-47 upset win over Australia, New Zealand netball coach Janine Southby believes.
The Kiwis have added a 2-1 series win over England to their season's tally, securing the Taini Jamison Trophy in Hamilton on Wednesday with a third-Test 62-55 win against the Roses.
Southby mixed and matched her 16-strong squad over both series, and will now further refine her selections when she names her Constellation Cup squad on Friday.
Southby says the New Zealanders are preparing to face an Australian backlash in the four-Test series which begins on October 5 in Auckland.
"I think they potentially took us too easy in that game in Invercargill, and I know going forward that won't happen again," she said.
"They'll have woken up to that. Our experience of doing this to them is they come back with a real roar.
"The big thing for us is making sure we're really well-prepared for this when it hits us."
Diamonds coach Lisa Alexander has made a couple of changes to her squad, dropping midcourter Madi Robinson and bringing in Caitlyn Nevins and Kate Moloney.
As well, the Australians will be without defender Sharni Layton, who also missed the Quad Series through exhaustion.
Alexander continues her rotation policy, bringing in Stephanie Wood and Susan Pettitt as goal attacks in place of Tegan Philip and Caitlin Thwaites.
Southby says she isn't lingering too much on the thinking behind Alexander's changes, preferring instead to work on the areas of improvement for New Zealand exposed in the England series.
"It's been great preparation for us, the body-on-body stuff. In fact, the girls said they found the English more physical than the Australians," she said.
"We've been patchy, and that's a concern. We have good quarters and then we drop off, or we're in the lead and we let it go and we end up losing games.
"That's certainly a worry - from my point of view, we've got to tidy that stuff up."