Silver Ferns to keep looking for new edge

NZ Newswire
14/10/2016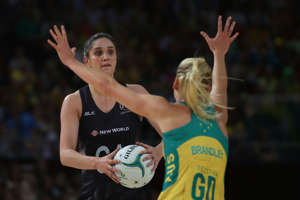 © Mark Kolbe/Getty Images Te Paea Selby-Rickit Silver Ferns boss Janine Southby will continue to tweak her squad in Saturday's third Constellation Cup Test despite their improved showing and two-point win in Tasmania.
The Silver Ferns trumped the Diamonds 53-51 in Launceston, with the introduction of Te Paea Selby-Rickit up front and veteran Anna Harrison at goalkeep paying dividends.
A sluggish opening by the Kiwis gave way to positive second and third-quarter performances, before Selby-Rickit and shooting partner Bailey Mes nailed several crucial goals to secure victory.
Southby told reporters on Friday that despite the result, she'd continue to mix up her tactics and starting seven in an effort to keep things fresh.
The Diamonds would be smarting from their home defeat and make their own changes.
"We have to, because if we don't, we become predictable and easy to read," Southby said.
"There's an element where we weren't happy with aspects of our game the other night, there's still a lot of finishing off we're not doing as well as we can."
One of those changes may be the reintroduction of gun shooter Maria Tutaia, who has successfully recovered from a foot injury.
The 188cm Tutaia looked sharp in training on Friday but Southby made no guarantees she'd find herself in the run-on side.
Selby-Rickit and Mes had both performed strongly in her absence, while 19-year-old Maia Wilson was showing plenty of potential.
"Maria's plan has been followed to the letter at the moment, so she's on track to be out there if we feel that's best for the team," Southby said.
"We've stepped up in the shooting this year and I know all of them are working really hard to make sure they absolutely take their opponents to task."
Skipper Katrina Grant, taking over the reins from the unavailable Casey Kopua, worked alongside Harrison in defence to quell the threat of star Diamonds shooter Caitlin Bassett.
She was encouraged by their burgeoning partnership but felt it could get even better in the remaining two Constellation Cup ties.
"There were times when we were both reading each other really well but Australia are also going to look back at the tape and analyse us a lot," Grant said.
The side will take Friday afternoon off before regrouping for Saturday's game in Auckland.