Ski areas celebrate as snow arrives

NZ Newswire
22/05/2016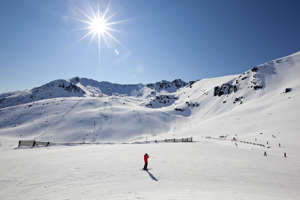 A cold snap during the weekend has delivered snow to mountains as ski areas prepare to open from early next month.
"Sundays are better with SNOW!," Cardrona Alpine Resort posted on its Facebook page on Sunday.
It has snow-making machines going but mother nature is also delivering the white stuff ahead of the opening on June 11.
Mt Hutt reports it received 15cm of new snow on Saturday ahead of its opening on June 10, and Treble Cone had 5cm of new snow by Sunday morning. Coronet Peak got a centimetre on Friday and the Remarkables got 5cm in the middle of last week.
The commercial fields on Mt Ruapehu in the middle of the North Island received their first snow of the winter last week and they are preparing to open on July 2.
On Sunday, Crown Range Road in Otago was closed when cars were trapped by snow falls.
The MetService says a strong cold southerly will bring snow to the ranges of Otago on Sunday and Monday.
From Sunday afternoon until Monday night 20cm of snow could accumulate above 1000m, with lesser amounts to about 700m.
There were snow warnings for all the mountain passes in the South Island.