Sleep link to tackling child obesity

NZ Newswire
7/03/2017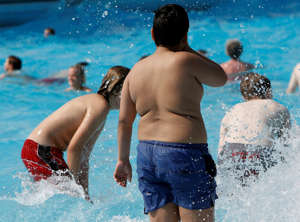 © AP Photo/Frank Augstein File Photo. Families who receive brief interventions about how to improve their children's sleep have infants who are much less likely to be overweight, Otago University researchers have found.
The Prevention of Obesity in Infancy (POI) study involved 802 Dunedin families who received the standard Well Child care offered to all children from birth to age five.
Some of the families were given extra support around food, activity and breast feeding; some were provided with a new sleep programme; and some received both interventions.
Study co-leaders Professors Barry Taylor and Rachael Taylor say that, surprisingly, when the children were two years old, the extra support around food, activity and breastfeeding had not affected how they grew.
However, children in families who received the sleep programme were much less likely to be overweight.
The professors pointed out that New Zealand parents already had access to significant support and advice on nutrition, activity and breastfeeding from their midwife and Well Child provider.
"Our POI study suggests that extra education in these areas does not protect babies from becoming overweight," they said.
"By contrast, the beneficial effects of the POI sleep intervention on the children's weight in children were intriguing and quite substantial."
The findings, published in the international journal Pediatrics, were also a surprise because the sleep intervention was brief.
It involved one class before baby's birth and a personal visit from a sleep nurse when the child was three weeks old.
Some family requested extra help if their baby still had difficulty sleeping after six months of age.
Prof Barry Taylor said the study suggested that families would benefit from expert advice on their infant's sleep.
He said further work was required to determine whether more intense interventions, particularly in those at higher need, could be even more successful.