Sleep-out at Gallipoli for dawn service

NZ Newswire
25/04/2016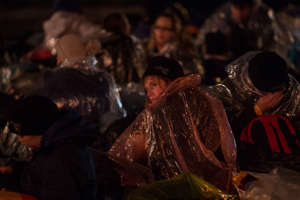 Hundreds of Australians and New Zealanders have slept out at the tightly-secured Anzac commemorative site at Gallipoli to await the dawn service.
Tucked into sleeping bags in front of the main stage at North Beach, they have been serenaded by a military band in between documentaries about the Gallipoli campaign shown on big screens.
At one point on Sunday evening many scrambled for cover as a fierce storm swept through, delivering rain, thunder and lightning.
Most people sheltered in the large security tent until the storm passed.
This year security has been stepped up with airport-style screening process in that tent, while armed Turkish police and soldiers stand guard at checkpoints into the Gallipoli sites.
The boosted security follows recent terror attacks in Turkey, at least two targeting tourists in Istanbul.
After a large attendance at last year's centenary service, numbers are down this year, in part also because of heightened travel warnings for Turkey from the Australian and New Zealand governments.
Australian Jayne O'Connell, 53, travelled to Gallipoli with her 13-year-old son, who is in a Brisbane school choir singing at the dawn service.
She said her great grandfather had five brothers, one of whom fought and died at Gallipoli while two others survived the campaign and went on to fight in France.
"It's quite an emotional thing to come and know that your relatives came here and fought in that war just so that we could survive and have the life that we have today."
Ms O'Connell said she had no issues about the security situation in Turkey and the Turkish people had been very welcoming.
New Zealander Dan Aiken, 25, from Mount Maunganui, said he also had no worries about security in Turkey.
Gallipoli was a special place where "a lot of good people died" and where "New Zealand established itself on the world map", he said.