Snell donating golds to Te Papa

NZ Newswire
11/07/2016
New Zealand running great Sir Peter Snell has made the surprise decision to donate two of his Olympic gold medals to the national museum Te Papa.
A little over a month after the museum's $122,500 purchase of his double gold medal 1964 Tokyo games singlet fell through because of doubts about its authenticity, the 77-year-old has decided the genuine medals will return to New Zealand.
"I sort of feel it belongs to New Zealand anyway," Snell told Newshub's Story at his home in Texas on Monday.
"New Zealand is where I was given the opportunity to do that, all sorts of things have to happen to make it possible, there's [his renowned coach] Arthur Lydiard, there's a whole culture that existed."
Snell, named Track & Field News' 1960s athlete of the decade, hit the headlines last month when Te Papa paid a remarkable $122,500 for his 800m and 1500m-winning singlet at auction.
However, it was returned to the owner when tests showed the fabric couldn't have been around at the time.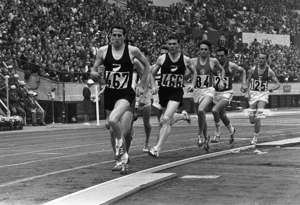 Snell's generous decision to donate his memorabilia to Te Papa came as something of a surprise, says museum spokeswoman Kate Camp.
The singlet affair had probably made him realise how much emphasis New Zealanders placed on his story, she told NZ Newswire.
However, it's not yet clear exactly what memorabilia Snell will donate to Te Papa.
One of his Tokyo medals is already in Dunedin's Sports Hall of Fame - leaving him with the other and the 800m gold he won at the 1960 Rome Olympics - but he also won two Empire Games golds and items to mark breaking a clutch of world records.
Te Papa has not yet spoken directly with Snell about what his donation will include, Ms Camp said.