Snell gold medals to go on show at Te Papa

NZ Newswire
4/04/2017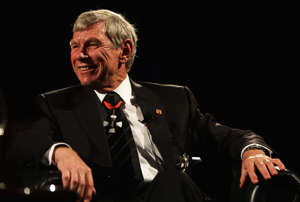 Two of athletics great Sir Peter Snell's Olympic gold medals, as well a running shoe he wore to victory, are going on display at Te Papa.
They are among 14 items Snell is donating to the national museum in Wellington.
The golds are those he won for the 800m race in Rome in 1960 and in Tokyo four years later.
The shoe was made by coach Arthur Lydiard and was worn during the race in Rome.
Snell, 78, claimed three Olympic titles, the third in the 1500m in Toyko.
Te Papa says Snell and his family will be welcomed to Te Papa's marae on April 18.
A special display will then be opened featuring the two Olympic medals and the shoe, which will remain on show until July 23.
All 14 items will be part of New Zealand's national history collection in perpetuity.
Te Papa chief executive Rick Ellis says the museum is humbled by Snell's decision to make the donation.
As well as seeing these items up close and personal in the museum, visitors will have Snell's story brought to life with video and digital storytelling, he says.
"Every kid in New Zealand will be able to get a taste of the determination and grit that took Sir Peter Snell to the top."
Last June, Te Papa bid at auction for a singlet thought to be that worn by Snell at the Tokyo Olympics.
The singlet was withdrawn from sale after the museum raised doubts about its authenticity.
SIR PETER SNELL'S GIFT TO THE NATION
- Gold medal for 800m, 1960 Rome Olympics
- Gold medal for 800m, 1964 Tokyo Olympics
- Arthur Lydiard-made shoe worn when winning in Rome
- Three world record plaques awarded by IAAF
- Tankard for 1962 mile world record in Whanganui
- Gold medals for 800 yards and one mile, 1962 Perth Commonwealth Games
- New Zealand Sportsman of the Year Award trophy
- 2000 Sydney Olympic Games torch
- Insignia of the Knight Companion of the New Zealand Order of Merit (badge and breast star)
- Order of the British Empire.