Snell's jersey goes up for auction

NZ Newswire
20/06/2016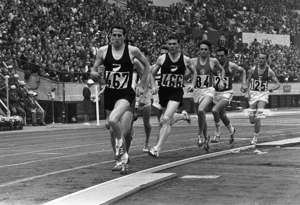 Sir Peter Snell's 1964 Olympic Games double gold medal singlet has sold for $122,500 at auction.
The singlet, which he wore while winning both the 800m and 1500m finals in Tokyo, went under the hammer on Tuesday morning and smashed the $50,000 top figure Auckland auction house Cordy's thought it might fetch.
From $80,000 the bidding was dominated by two phone bidders, TVNZ reports. The buyer's identity has not yet been revealed.
Snell was a protege of the New Zealand athletics coach Arthur Lydiard and is widely considered one of the greatest middle-distance runners.
Snell, 77, now lives in Texas, 
Before the auction he said he could not believe the 52-year-old singlet - with his racing number 466 in black on white below an embroidered New Zealand and Silver Fern - could be worth $50,000.
He told RNZ he did not remember giving it away, but probably did so for a charity event many years ago.
He said he hoped it would end up in the New Zealand Sports Hall of Fame in Dunedin, which is where he will donate his Olympic medals.
Auctioneer Andrew Grigg said the auction house had effectively discouraged overseas buyers, including one potential bidder from England, by telling them they would likely need a permit from the Ministry of Culture and Heritage to take the singlet out of the country.
The singlet still fell well short of the price for All Black Dave Gallaher's 1905 jersey - which sold for $368,135.80 in Wales last year.