Social Music App-Maker Smule Raises Another $16.6M

TechCrunch
10/04/2014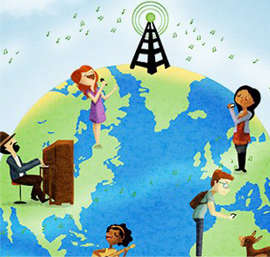 , maker of popular social music apps including and , is announcing that it has raised $16.6 million in new funding.
Founded in 2008, says it continues to grow at a healthy clip, with sales doubling in the first quarter of 2014 (compared to Q1 2013), and the company currently at a $30 million run rate for the year. (Of that total, 80 percent comes form subscriptions, the other 20 percent from advertising.) The number of monthly unique users also doubled, from 9 to 18 million. And the company is now break-even with regards to monthly cashflow.
Last year saw , the company's first major initiative on the web, where users across the various Smule apps can share their performances. As a result, Smule says traffic its website has tripled to 1.5 million unique monthly visitors. (2013 was also a big year for co-founder and CEO Jeff Smith personally — .)
Smith told me that the new funding was led by ' new venture group, which brought in growth funds and other new investors. (Asked if the funding means Smule is bringing on new board members, Smith grinned and said no.) Past backers Bessemer Venture Partners, Shasta Ventures, and Granite Ventures also participated. .
The money will go toward continued development of Smule products, including Smule Nation, Smith said, and toward international expansion, beginning with Asia. He also noted that while the company intends to launch new products this year, its business projections are based entirely on growth in existing products (so new users and new revenue from new products are just gravy). And he said that his ultimate goal is to take Smule public, although it doesn't sound like there are any definite plans in this area.