Solid Energy slams Pike re-entry claims

NZ Newswire
20/11/2016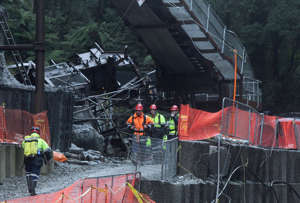 © Iain McGregor-Pool/Getty Images The Pike River mine Coal miner Solid Energy has slammed reports suggesting the Pike River coal mine is now safe to enter.
In a strongly worded statement released on Monday, the company's directors, headed by chairman Andy Coupe, say inaccurate and misleading statements in the media are feeding a false hope of re-entry.
Saturday was the sixth anniversary of the disaster, where 29 men were killed in a series of underground explosions. No one has been into the mine since.
The families' belief it may now be safe to enter mine's drift, or entryway, to find clues about what happened, hit the headlines last week.
"In our view the media and others do a disservice to the families in continuing to misrepresent the factual situation," the directors said.
"The reality is that for the entire time since Solid Energy took over Pike River Mine in 2012, the drift has been full of nearly pure methane.
"There is no report that shows the gas levels have reduced. There are no recent tests that show the seal is unnecessary. In fact, our continuous monitoring shows that methane remains at around 98 per cent and is continually being released into the mine and drift.
"It is disingenuous and, frankly, deeply disappointing, for commentators who lack the full information base on which this decision was made - and who bear no legal responsibility for the outcomes of a re-entry project - to once again raise hopes regarding re-entry."
Solid Energy is in the process of permanently sealing the mine and its deadline is the end of next month before it is handed over to the Department of Conservation to be part of the Paparoa National Park.
It would be unacceptable to hand over a methane-filled mine, with only a temporary seal, in a difficult to access, geotechnically unstable area, they said.
"While we have deep sympathy for the position of the families, the directors' decision is entirely motivated by our responsibility for the safety of the site and any person entering the mine. The risk of endangering more lives is not a risk we believe should be taken.
"We know this is an extremely difficult time for the families. We wish that safe entry was realistic and understand the frustration and disappointment around the fact that it is not."