Sounds Air to start flights to Kaikoura

NZ Newswire
17/11/2016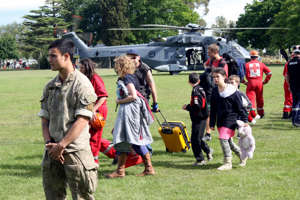 Marlborough-based Sounds Air is introducing flights to earthquake-battered Kaikoura, which has been cut off by road since the 7.8-magnitude earthquake.
The service, which will begin on Monday, will connect Kaikoura to Blenheim and Christchurch.
One of the first flights will carry two tonnes of mail, the first mail into the town since slips closed State Highway 1.
Managing director Andrew Crawford says the service is for three weeks, "but we will go longer if needed".
In the Marlborough town of Ward, bucket showers have been installed, allowing residents to have hot showers for the first since the quake.
Building inspections there are expected to be completed on Friday.
So far, eight properties have been given red stickers after being identified as being too badly damaged to allowed residents back in.
Parts of 32 other buildings have been initially assessed as unsafe to enter and been given yellow stickers, while 91 others have got the all-clear.
Marlborough Civil Defence said attempts to sluice loose material from a large slip blocking Awatere Valley Road were interrupted by bad weather and it didn't know when the road would reopen.

It said a helicopter inspection revealed that slips in the Ure River area, from where 13 people were relocated, were significant and did pose a risk to properties.