'Spider bite' double amputation likely to be mistaken identity, says arachnologist

The Guardian
5/04/2017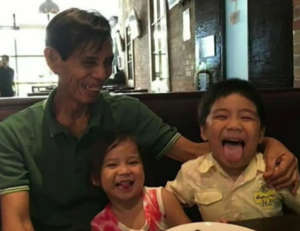 © Nine News A Melbourne man's double amputation is likely to have been misattributed to a white-tail spider bite.

Terry Pareja underwent emergency surgery at Wimmera Base hospital in Horsham, Victoria, to have his right leg amputated. He was then airlifted to the Alfred hospital in Melbourne, where his left leg was amputated.
Fairfax Media reported that the double amputation was necessary owing to the progression of "flesh-eating bacteria" induced by a white-tail spider bite. 
Two species of white-tail are common in southern and eastern Australia. Their venom is widely purported to cause ulceration and necrotic lesions for which there is no treatment but ​ there is no evidence to support ​this.
A cohort study of 130 cases of confirmed white-tail spider bites between February 1999 and April 2002 found none had resulted in necrotic lesions.

"This provides good evidence that necrotic ulcers are unlikely to be a result of white-tail spider bite, and previously reported cases are more likely a result of misattribution," it concluded.
The venom had "little potential" to cause necrosis, the researchers found, pointing to another study that had concluded it had "little effect on human cell cultures".
The study, published in August 2003, concluded with the hope that its findings would help to "dispel some of the myths surrounding white-tail spiders and their bite".
But the reporting of Pareja's case proves the link between necrosis and white-tail spider bites persists, even though, as the Queensland Museum arachnologist Robert Raven pointed out to Guardian Australia, "the refutation is now over 10 years old".

"It's really quite disturbing to see that this stuff has been reborn," he said, adding: "For a long time, even at the height of the issue, we said, this is not the spider that's doing the damage."
Both Wimmera Base hospital and the Alfred hospital have been contacted by Guardian Australia for an update on Pareja's condition and clarity as to how the white-tail spider bite diagnosis eventuated.
In many cases of bites attributed to white-tail spiders the patient did not see a spider nor feel a bite. "This is the problem with a lot of these cases: what we get is: 'Did you see the spider?' 'No.' 'Did you feel it bite?' 'No.' 'Then how did you know you were bitten?' 'Because a doctor told me.'"
There was, in fact, no way for doctors to diagnose bites from any species of spider other than redbacks and funnel-webs, he said.
A 2004 study had found that 11 cases of necrotic ulcers misattributed to white-tail spider bites between January 2000 and June 2002 "were found to have alternative diagnoses with appropriate investigations". There was a range of final diagnoses, including an infected diabetic ulcer, a staphylococcal abscess and various skin infections such as tinea.
Not only did no species of Australian spider have necrotic venom, said Raven, white-tail spiders' mouths were too small to penetrate human skin.
"The thing we've said over and over again is that spiders don't have necrotic venom. You imagine what it is: a spider bites you, and it's going to follow you until you die? No. It needs to bring the animal down quickly."
Raven said on the ABC just last week the reported impact of whitetail spiders was a "total furphy", attributing the persistence of the misinformation as a case of "let's not let the truth get in the way of a good story".
"The litany of things that were attributed to white-tail spiders was absolutely horrendous."