Spotlight posts FY16 profit drop

NZ Newswire
30/12/2016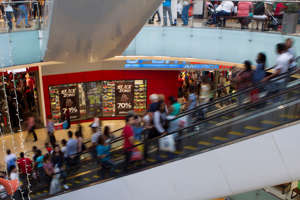 © ERIKA SANTELICES/AFP/Getty Images Image of shopping mall.

Spotlight, New Zealand's largest fabric, craft and home decor retail chain owned by one of Australia's wealthiest families, posted a decline in profit for the first year in five in 2016, as it marked two decades in this country.
The local unit of the Melbourne-based chain posted a 14 per cent drop in profit to $5.2 million in the year ended June 26, according to its financial statements posted with the Companies Office last month.
Revenue increased 3.8 per cent to $103.4m. Costs rose across the areas of marketing, personnel, and its support group, led by a 36 per cent jump in distribution costs to $4m, and a tripling of 'other' costs to $3.7m.
The company wasn't immediately available to comment.
Spotlight has grown from the humble beginnings of a single dress fabric stall at Melbourne's Queen Victoria Market in the early 1970s to a chain of more than 100 sew, craft, party and home decorating superstores across Australia, New Zealand, Singapore and Malaysia.
The first New Zealand store was opened in Wairau Park in Auckland in January 1996, and in a March press release the company noted it had sold 540,000 cushions, 300,000 costumes, 3 million buttons and 30 million metres of fabric in the ensuing 20 years, with 18 stores now spread across the country from Invercargill to Whangarei.
The family empire was established by brothers Morry Fraid and the late Ruben Fried, whose differently spelt surnames have caused trouble ever since the school administrative error that caused it.
Spotlight was ranked 40th on this year's BRW Rich List, with an estimated wealth of $A1.22 billion ($NZ1.27b).
Its SPG Properties unit in New Zealand, which owns $23.5m of investment properties, posted a 7.8 per cent decline in profit to $1.4m in the year ended June 30, as revenue slid 11.5 per cent to $2.2m, according to its latest financial statements.