Status Quo guitarist Rick Parfitt dead at 68 in Spain after suffering severe infection 'he caught IN hospital'

Mirror
24/12/2016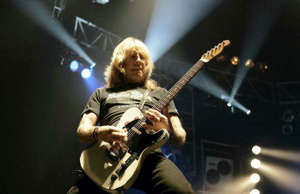 © Press Association Rick Parfitt Status Quo rocker Rick Parfitt has died suddenly on holiday, aged 68 - after suffering a severe infection 'he caught in hospital'.
The musician passed away at a hospital in Spain, his manager confirmed in a statement this afternoon.
It's claimed the veteran musician was admitted to the hospital on Thursday after suffering complications from a previous shoulder injury - but picked up a severe infection while he was there.
He died at lunchtime today, his family added in the statement.
Despite Rick's extensive health problems - including him needing a quadruple heart bypass 20 years ago in 1997 - he was planning a long-awaited solo album and autobiography next year.
However, after suffering a serious heart attack on stage this summer, he announced in October that he would no longer be performing with the rest of the Quo.
In a statement issued today, the band said: "We are truly devastated to have to announce that Status Quo guitarist Rick Parfitt has passed away at lunchtime today.
"He died in hospital in Marbella, Spain, as a result of a severe infection, having been admitted to hospital on Thursday evening following complications to a shoulder injury incurred by a previous fall.
"This tragic news comes at a time when Rick was hugely looking forward to launching a solo career with an album and autobiography planned for 2017 following his departure from Status Quo's touring activities on medical advice.
"He will be sorely missed by his family, friends, fellow band members, management, crew and his dedicated legion of fans from throughout the world, gained through 50 years of monumental success with Status Quo.
"Rick is survived by his wife Lyndsay, their twins Tommy and Lily and Rick's adult children Rick Jnr and Harry.
"No further comment will be made at this time and Rick's family, and the band, ask for their privacy to be respected at this difficult time."
It comes just a month after his bandmate Francis Rossiopened up about the devastating moment he saw Rick 'die' on stage of the massive cardiac arrest - though he was brought back to life thanks to the speedy efforts of nearby medics.
And for an instant, Francis wanted them to give up.
Talking about that night for the first time, Francis says: "I saw him lying there and what they were doing to him and I thought, 'Oh sh*t'.
"They were pumping his chest with so much effort his arms were flailing. He was gone.
"I almost said, 'Oh leave him alone'. I wouldn't want people doing that to me. But it wasn't my call.
"It could be seen as one partner trying to bump the other partner off."
The heart attack was a serious wake-up call for the two friends, who had lived and breathed rock n' roll for 50 years.
Rick and Francis were infamous for their binges at the height of their fame - Francis would splash out £1,200 a week on cocaine and did so much damage to his nose that part of his septum fell out when he had a shower.
Francis knocked the crazy days on the head in his late 30s – while Rick kept up the hedonistic lifestyle.
Rick had his first heart attack in 1997 followed by a quadruple heart bypass. He had another heart attack in 2011 and one in 2014, after which he said he had given up drinking.
Rick leaves behind his estranged second wife Lyndsay Parfitt, sons Richard and Harry, and eight-year-old twins Lily and Tommy.
His life was marred by the tragedy of his daughter Heidi dying 32 years ago at the age of three when she fell into the swimming pool at the family's Surrey home.
Opening up about the awful incident in 2008, after the birth of his twins, Rick said: "It is beautiful to have a daughter again.
"You can never replace Heidi but to have a little girl again is a dream for me."